Early Access Game
This game is not complete, but you can play it :). If you are not excited to play this game in its current state, then you should wait to see if the game progresses further in development.

Create your dream museum!
yaaMs is a museum builder and manager game. Collect art, present them and make your customers happy! Create and maintain your dream museum or the next louvre?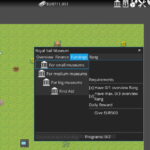 The Early Access version V0.09 includes:
50+ arts to display in 3 categories
20+ different objects to place
7 needs from the customers
5 types of museum supports
3 room types
3 map sizes
1 tutorial
and lot's of work 🙂